BRINE COOLERS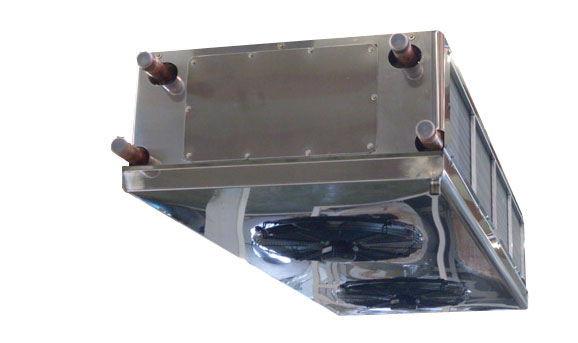 HTE brine coolers are air coolers named with W_ range, and are meant for the storage, preservation or preparation of fresh goods for small, medium and large cold storage. Brine coolers are using a fluid brine made of water or mixtures of liquids containing ethylene or propylene glycol, HYCOOL or Freezium, unlike the direct expansion cooler unit where the refrigerant cyclically undergoes a change of state htrough expansion.
The HTE brine coolers are designed to cover all applications in refrigeration, such as:
storage and preparation of fresh products in high and medium temperature
storage and preparation of the packaged products in high and medium temperature
ripening and aging of foodstuffs (cheese, meats, fruits)
The cold storage where brine coolers find their application are needing a high stability of temperature and humidity thank to a low temperature difference between brine and air, optimized for the preservation of the food and studied with special care with CFD software simulation of the thermo-hygrometric conditions .
The HTE brine coolers for cold storage refrigeration fully meet the requirements of the application and are designed basing upon a long experience in the industry. They represent the state of the art in air coolers for design quality, attention to details and use of noble materials generously sized for withstand harsh environments without failure or degradation of efficiency.
The design standard of HTE brine coolers is unique in the industry, and provides stainless steel casing, copper tubes, oversized aluminum fin surface having low pressure drops, low fouling factor to reduce the amount of defrost cycles, high efficiency fans with external rotor according to Erp 2015 standards.
For cold storage refrigeration with special processes such as cheeses, meats or fruits ripening or in applications like in the tannery industry, where periodic sanitizing of the unit coolers is a must, we have special versions available, with the following constructive features:
Aluminum fins coated in epoxy resin
Copper fins
Tinned copper tubes and copper fins
Fins treatments as blygold®, heresite®, electrophoresis
Stainless steel tubes
HTE brine coolers are available with following defrost modes:
air
electrical resistance
water
ADVANTAGES BLAST FREEZER:
Heat exchanger with high efficiency
Reduced air dehumidification
Reduced formation of hoarfrost
High air throw
Reduced brine volume
Low fan power consumption
Low electric defrost power consumption
Features
Generality
| | |
| --- | --- |
| Configurations | |
| Coils | |
| Structure and cover panels | |
| Ventilation | |
Materials
Fins
Tubes
Manifolds
Metal sheets
Al - Aluminium
Al-P Prepainted aluminium
Al-H Hydrofillic aluminium
Cu - Copper
Ot - Brass
Hot bath zinc steel
Stainless steel
Legenda
Standard
Optional
Not available
Treatments
| | |
| --- | --- |
| Protecting surface treatment of the exchanger element | |
| Cover panels | |
Fans
Accessories
| | |
| --- | --- |
| Hydraulics | |
| Electrics, control and regulation | |
| Structural components | |
Reference guidelines
ECO. Low sound emission AC or EC fans with fan speed controls (wired in to connection box)
DEFROST. With integrated defrost systems
PRODUCTS
WM_SERIES
WC_SERIES
WI_SERIES